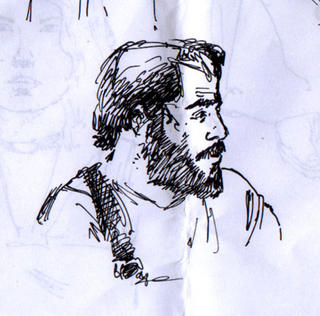 The victim turned out to be a pretty good duelist herself, and the three of us (plus a late arrival - Dartagnan?) began to stalk for fresh prey. Here's a couple of them!
Dartagnan (unlike some people who will not be mentioned but only guessed at >:->) had the decency to bring his own drawing apparatus! :)
Reminds me: Dear Dartagnan (yes, that's you, Daniel!), don't forget to send me those photos!
PS: What the hell was I thinking when
I drew that hand???